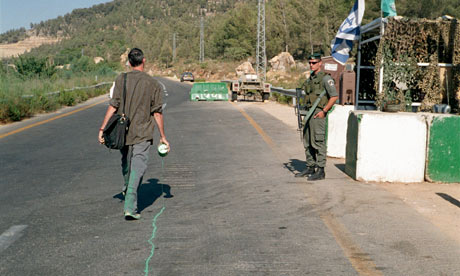 Tate Modern's exhibition of the simultaneously poetic and political work of Francis Alÿs (b. 1959, Belgium) is not to be missed this summer. The most comprehensive show of the artist's celebrated work, 'A Story of Deception' lends insight into his working method with exquisitely lit vitrines of diagrams for projects, as well as a series of small maquettes on which Alÿs illustrates hypothetical and possibly absurd scenarios with great detail.
Alÿs moved to Mexico City in the 1980s where he has remained since, and began to make work about daily life. 'Ambulantes' (1992 - present) is a slide projection comprised of images of people pushing carts loaded with goods, detritus, and even food for sale, exchange, or disposal. These stills within scenarios recall moments of observation, and the countless trajectories of trades people and ordinary denizens of a metropolis, that are often overlooked or ignored.
The theme of walking, which may be considered banal, takes on a central role in 'The Green Line' (1995), which chronicles the artist walking along the armistice border, dribbling a can of green paint down the metaphorical line marking the end of the Six Day War between Israel and Jordan in 1967. The meditative and political aspects of Alÿs's work are also present in 'The Loop' (1997), for which Alÿs used his commission fee from an international biennial held in the land bordering San Diego and Tijuana to travel in a loop that avoided the crossing the U.S.-Mexican border.
'When Faith Moves Mountains' (2002) embodies Alÿs's reaction to the collapse of the government in Peru in 2000, and depicts 500 Peruvian students simultaneously digging and walking up a sand dune as an illustration of the anticlimactic efforts of Latin American modernization schemes. At the same time, the event may be seen as a success in concerted and active participation with a united focus. Process and progress in medias res take centre stage in this exhibition, and Alÿs's work continues to prove relevant to our world's contemporary politics, whilst remaining aesthetically captivating.
http://www.tate.org.uk/modern/exhibitions/francisalys/default.shtm
- YZ